Ingredients
For the donuts:
1 cup flour
1 tsp baking powder
2 tsp vanilla essence
1/2 tsp salt
1/3 cup sugar
1/4 cup melted Stork Baking Margarine
1 large egg
1/4 cup buttermilk
1/4 cup champagne/sparkling wine
For the glaze:
1 1/2 cups icing sugar (sifted)
1 Tbsp melted Stork Baking Margarine
2 Tbsp milk
1 Tsp vanilla essence
2 Tbsp champagne/sparkling wine (add more or less, depending on desired consistency)
Light pink food colouring (optional)
Decorate:
Crushed pistachios
Rose buds or fresh roses
Step by step method
For Donuts:

Preheat the oven to 180ºC and use a little STORK Bake to grease the donut pans.
Whisk the flour, baking powder, sugar and salt together and set aside.
In a separate bowl, combine the melted STORK margarine, vanilla essence, egg, buttermilk and whisk until well combined.
Gently, stir the champagne into the wet mixture.
Add the wet mixture to the dry mixture and mix until just combined. Do not over mix the batter.
Use a piping bag fitted with a large round piping tip to pipe the batter into the donut pan, filling them 3/4 full.
Place the donut pan in the oven and bake for 10 minutes or until golden brown.
Allow the donuts to cool before glazing.

For Glaze:

Combine the melted STORK margarine, vanilla essence, milk and champagne
Stir in the icing sugar a little at a time and mix well. Add more icing sugar if needed.

Decorate:

Once donuts have cooled, dip the top of each donut into the glaze and transfer to a wire rack.
Top with crushed pistachio's and roses.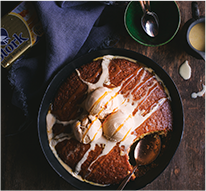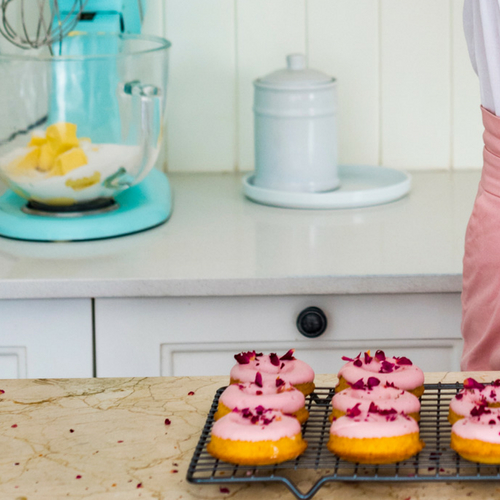 ---